Elon Musk has some urgent advice for world leaders…
In a series of weekend tweets, the richest man in the world called for Europe to "restart dormant nuclear power stations and increase power output of existing ones," calling it "*critical* to national and international security."
He also offered to eat "locally grown food on TV" from the "worst location" to prove that there's no radiation risk, and called nuclear energy "vastly better for global warming than burning hydrocarbons for energy."
On Friday, Musk raised eyebrows when he tweeted: "Hate to say it, but we need to increase oil & gas output immediately."
He continued: "Extraordinary times demand extraordinary measures."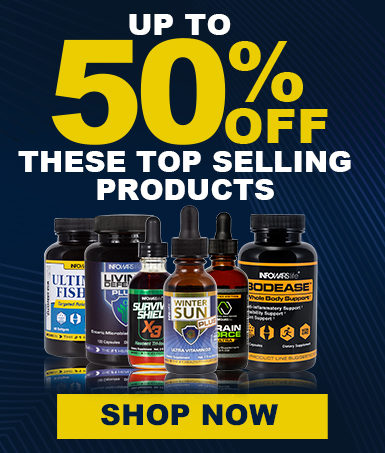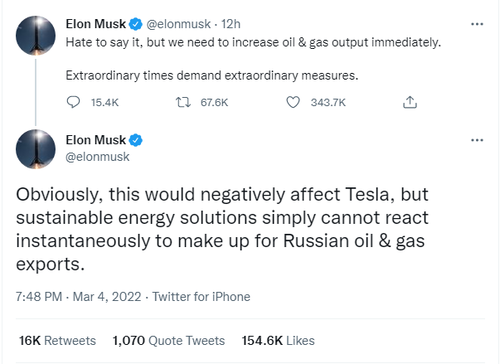 Musk's change of heart comes as a result of the worsening geopolitical scenario in Ukraine.
"Obviously, this would negatively affect Tesla, but sustainable energy solutions simply cannot react instantaneously to make up for Russian oil & gas exports," he wrote in a follow up Tweet.
Questions still remain as to whether or not the Biden administration is going to take a potential ban of Russian oil and gas seriously. White House Press Secretary Jen Psaki said late last week that the administration wasn't considering the option yet – likely because gas prices are going parabolic and the administration is stuck between a rock in a hard place with trying to prevent further damage to the American consumer's wallet.
It appears Elon Musk thinks increased production would help the issue.
Now, if we only hadn't spent the last 3 years campaigning on, and then instituting policies that choke the supply of gas and energy domestically…


Vous aimer cet article ? Partagez-le avec un ami !

*********************************

Vous pouvez lire l'article original ici

*********************************

Votre soutien est essentiel pour nous permettre de vous partager une information libre & indépendante.

À l'ère de la censure de masse, pour que nous restions en contact, j'ai besoin que vous vous inscriviez à ma newsletter gratuite ➡️ ICI

Nous avons besoin de financements pour garder notre site en vie et ils proviennent presque exclusivement de la publicité. N'hésitez pas à regarder les offres de nos annonceurs pour lesquels vous seriez intéressé ou nous envoyé votre contribution via Paypal.