Solomon Islands Prime Minister Manasseh Sogavare and Chinese Premier Li Keqiang inspect a guard of honor in Beijing in October 2019, shortly after the Pacific island nation exchanged relations with Taiwan for ties with the PRC. (Photo by Wang Zhao/AFP via Getty Images)
(CNSNews.com) – Claims that Beijing plans to build a military base in Solomon Islands are "fabricated," a Chinese foreign ministry spokesman said on Monday, accusing the United States and Australia of trying to "revive the Monroe Doctrine in the South Pacific."
A day earlier, Australian Prime Minister Scott Morrison said any attempt by China to build a naval base in the archipelago, which lies to Australia's northeast, would cross a "red line," not just for Australia but also for other countries in the region and the United States.
"We won't be having Chinese military naval bases in our region on our doorstep," he said.
A senior U.S. delegation visited Solomon Islands last week to discuss concerns about a recently-signed security pact with China, and to offer deeper engagement with its government and people, including plans to reopen an embassy shuttered three decades ago, and to advance health and climate initiatives.
The White House said the delegation stressed that the U.S. respects nations' right to make sovereign decisions in the best interests of their people. But it also made clear that should China use the security pact to establish a military base, "power-projection capabilities," or a de facto permanent security presence, the U.S. "would then have significant concerns and respond accordingly."
The White House said Prime Minister Manasseh Sogavare had given assurances that those concerns would not be realized.
The delegation, led by Assistant Secretary of State for East Asian and Pacific Affairs Daniel Kritenbrink and National Security Council coordinator for the Indo-Pacific, Kurt Campbell, said the U.S. would follow developments closely, in consultation with its regional partners.
Chinese foreign ministry spokesman Wang Wenbin scoffed at the criticism, telling a press briefing that "the speculation that China will build a military base in Solomon Islands is pure disinformation fabricated by a handful of people who harbor ulterior motives."
Wang said the security pact between China and Solomon Islands was "open, transparent, legitimate, lawful and irreproachable."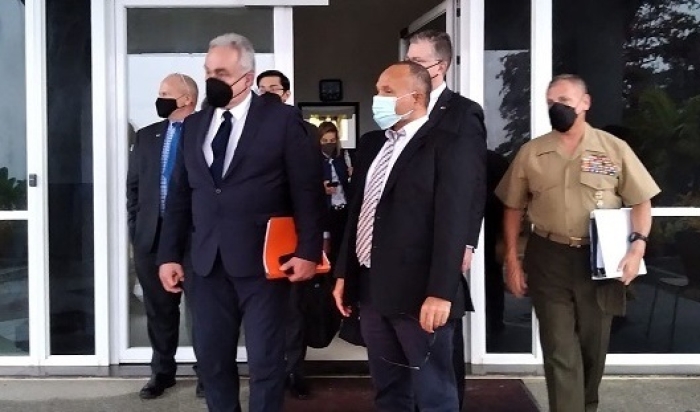 U.S. National Security Council Indo-Pacific coordinator Kurt Campbell, left, with Solomon Islands opposition leader Mathew Wale, center, after a meeting in the capital, Honiara, on Friday. (Photo by Mavis Podokolo/AFP via Getty Images)
In fact, the text of the agreement was not released officially. An earlier leaked draft raised concerns that it could allow China to dispatch armed forces and deploy warships to the island nation.
Even the behind-closed-doors signing of the document was only acknowledged after the fact, with Wang saying vaguely last week that it had been signed "the other day," and declining to offer any further details.
Despite this, Wang suggested that the U.S. and Australia were being hypocritical in criticizing the arrangement with Solomon Islands, charging that the AUKUS (U.S., Britain, Australia) security partnerships announced last fall was "neither open nor transparent."
"When will the U.S. and Australia invite South Pacific island countries and other regional countries to review AUKUS cooperation?" he asked.
The AUKUS initiative is centered on the U.S. and Britain helping Australia to acquire nuclear-powered, conventionally-armed submarines to help the allies confront what President Biden called "rapidly evolving threats" in the Indo-Pacific..
The agreement is publicly available, and is being debated by lawmakers. It does include provisions to protect sensitive naval nuclear propulsion information transferred between the parties.
"Island countries in the South Pacific are independent and sovereign states, not a backyard of the U.S. or Australia," Wang said. "Their attempt to revive the Monroe Doctrine in the South Pacific region will get no support and lead to nowhere."
The security pact was negotiated between Solomon Islands and China after anti-government riots late last year during which some Chinese businesses were torched.
Some of the unhappiness with the government arises from its decision in 2019 to break diplomatic relations with Taiwan, in favor of establishing them with Beijing.
The country's opposition leader, Matthew Wale, met with the visiting U.S. delegation, and said afterwards he had told the NSC's Campbell that a new government would terminate the pact with Beijing, as most Solomon Islanders opposed it.
"Rather than the deal leading to more security for Solomon Islands, it risks achieving the opposite," Wale said. "The geopolitical struggle has already had internal effects on our country, and because of the deal, unfortunately we are to expect more."
See earlier story:
'Concerning Precedent': US Delegation Heading to Solomon Islands to Discourage a Security Pact With China (Apr. 19, 2022)

Vous aimer cet article ? Partagez-le avec un ami !

*********************************

Vous pouvez lire l'article original ici

*********************************

Votre soutien est essentiel pour nous permettre de vous partager une information libre & indépendante.

À l'ère de la censure de masse, pour que nous restions en contact, j'ai besoin que vous vous inscriviez à ma newsletter gratuite ➡️ ICI

Nous avons besoin de financements pour garder notre site en vie et ils proviennent presque exclusivement de la publicité. N'hésitez pas à regarder les offres de nos annonceurs pour lesquels vous seriez intéressé ou nous envoyé votre contribution via Paypal.